We upgrade your entire office in one night!
In most cases, our efficient process allows us to upgrade an entire business office in one night. By using quality SSD's, and special migration software, our services are more cost effective than purchasing new equipment.
New 500 GB to 1 TB SSD 5-yr Warranty
We register the warranty for you
Mounting hardware included
6 Gbps Fast SATA cable(s) included
Convert older HDD hard drive data to a new SSD drive
On completion, you keep your old hard drive as an archive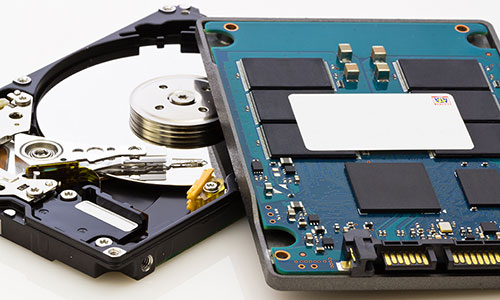 (left) HDD hard drive. (right) SSD drive
What You Need To Know
Initially, our friendly staff will review all your older hardware specifications to determine if a SSD upgrade is compatible. If not, a newer refurbished system maybe more cost effective. Once we gather the necessary hardware information, we will schedule the upgrades to be completed after business hours. Since Windows 7 end of life date is January 14, 2020, we offer additional services to upgrade your operating system to the most current secure version of Windows 10.